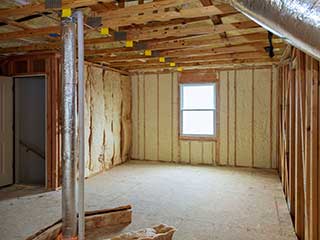 What Does Attic Insulation Do?
Proper attic insulation helps to keep your home's temperature comfortable, be it keeping in heat during the winter, or stabilizing the air conditioning in the summer. This way, neither must run continuously, which saves you energy.
If your bill is monstrous every month, you can probably blame it on poor insulation. If it's not the right amount and type for your attic, it's not doing its job properly.
What We Can Do To Help
Whether you have old insulation that's not functioning well enough and need to be replaced, or none at all, we can assist you with putting in the right kind and quantity for your attic! The latter has to do with the R-Value, and it's very important. The wrong R-Value for where you live means that you aren't getting your money's worth, and may still be wasting energy. Our trained team will work with you to decide what is best suited for your home, so you won't have to worry!
Even better, we have experience in the area, so we know the climate. The warmer the weather tends to be, the less insulation is needed, and vice versa. Whatever your attic needs, we've taken care of it before, so you can trust it'll be done right!
As for different types, our experts can assist you in determining whether fiberglass or cellulose is best for you. Both have slight differences to them, cellulose is more green-friendly than fiberglass, fiberglass is less dusty, etc. In either case, we can easily install whichever one you decide on safely and quickly. You can rest assured that whichever it is, it will be the highest quality out there, and be put in with the best tools possible.
Call Us Today!
Nobody wants to deal with an energy bill that only seems to get worse, so don't! Contact our experts at Attic Cleaning Palo Alto instead, and let us get to work on fresh insulation in your attic. When you see the savings, you'll be so glad you did! We also perform professional attic and crawl space cleaning and decontamination, so be sure to contact us for any related need, not only for insulation purposes.
We do so much more!
Air Duct Repair and Replacement
Crawl Space Waterproofing